If he's not playing or listening to music, he's thinking about the next opportunity he'll have. This has always been the case for Jess. As a kid and in his teens, he got involved in everything musical. Whether a jazz ensemble, concert band, vocal group, or just Jess and his 6-string, his guitar, trumpet, and voice could be heard.

These days it's most often just the duo (Jess and his guitar), but his past musical experiences are clearly present in his writing style and sound. His jazz influenced guitar arrangements leave plenty of room for his captivating lyrics to be truly heard. It is this powerful collision of thoughtful words laid over the buzz of an acoustic guitar that fuels his passion.

While in school he majored in Music Industry where he spent many hours in the recording studio. Immediately
following graduation he quit his job, sold his car, and moved to New York City. Here he performs, listens, and breathes as much music as his waking hours will allow.

Check out his YouTube channel and follow him on Twitter for the latest in the world of Jess. He hits the road in September 2010 for his first cross-country tour so stay tuned. There is much more to come!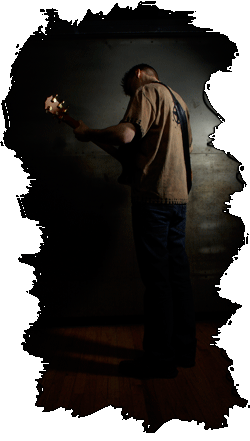 For questions, booking inquiries and hellos,
email Jess: jess[at]jessprewitt[dot]com

"Jess has a soulful, velvety voice, with a relaxed jazzy quality, that draws you in and envelopes you. He's the perfect combination of fluid, acoustic guitar strumming and heartfelt lyrics. Jess Prewitt is on the way up!"
-Jeanie Petersen

"Jess' music appeals to the senses as well as to one's sense of place in the world. His soft, melodic voice creates a relationship between him and the audience, which immediately gives his listeners a sense of comfort. However, his literate, socially conscious lyrics are able to evoke rage and indignation at the forces over which we have no control. It seems paradoxical, but the experience of hearing Jess perform is nothing but satisfying."
-Maria Burcroff
"Jess has a true passion for music. He brings the audience into his world and makes them feel every note."
-Matt Garrity